Post by Mastercaster on Sept 21, 2013 9:31:20 GMT -8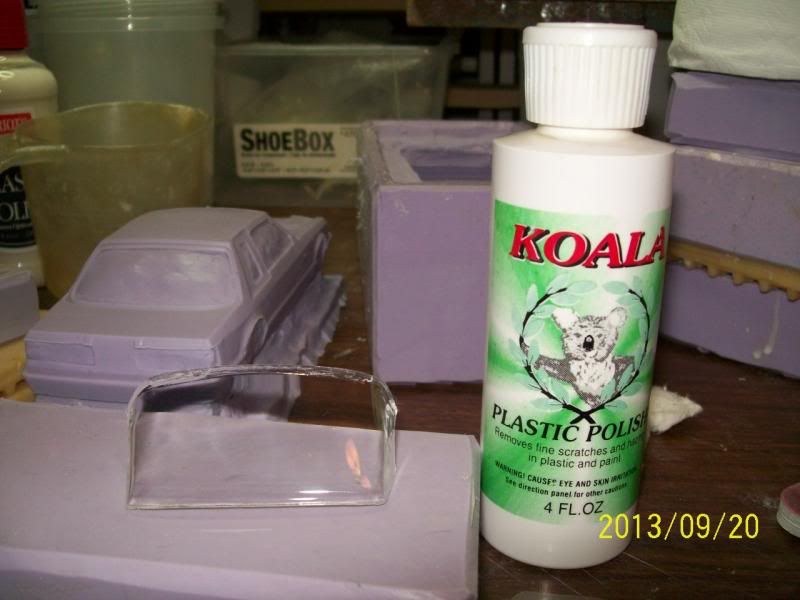 Here is a before and after photo of a glass out of my original issue 64 Buick Wildcat convertible kit. There were a couple of places in the glass that were quite deep and some sanding needed to be done.
www.koalaproducts.net/beforeafterpolish.html
This product is so far and by far the next best thing I have found to replace the use of the Bare Metal Foil plastic polish that they used to sell. If you were a fan of the BMF polish this is pretty good stuff. When I got back into the hobby I thought I would try to become a builder and super detailer. I thought it would be a great idea to buy one of those multi packs direct from BMF. I noticed the polish and figured another ten bucks was nothing. The BMF product was a really good product and upon using that bottle up I found that they dropped it from their offerings. The last time I looked it is still in their product list but unavailable. Pretty much the story of my life when I find something worth the money. I did searches and spent money buying up what I could find online only to be unhappy that some bottles had paper labels over the factory print and still did not work quite as well. BMF polish is very thin and is much like Brasso but a different formula. I called BMF and talked to the owner, Eldred Mason and asked. He laughed at my Brasso comparison and assured me it was not repackaged Brasso. For some reason (money?) the company no longer makes it. This Koala product is very thin, it looks like milk and of course has a funky smell. Light scuffs polish out very quickly. I certainly wish I had this product when I was doing the Mustang hood. I really like my magnifier light to show it's reflection in some of my parts photos.
www.innovativehobbysupply.com/
The above link is to another plastic polish that is pretty good too. Koala is a bit better in cleanup. This is a cream that is in a glass jar. It gets listed on Ebay. Unfortunately, I have spent good money on polishes that did not work well. The Koala is $15.00 with postage included to my door.
bare-metal.com/model-building-molding-specialty-items.html
This page still shows it exists but is still out of stock. This page has been like this for several years now!
bare-metal.com/How-to-use-Bare-Metal-Foil.html
Here is a online slideshow by Dennis Doty about applying BMF.