Post by Louie on Sept 10, 2011 22:06:43 GMT -8
Hello Everyone,
As some of you know, I collect Jo-Han kits, almost exclusively. With that in mind, I have decided to start my own review. This is the first installment of some of our favorite kits, from this wonderful company.
I'm going to try and do one of these reviews every so often. This first installment is one of my favorites;
The Ford Maverick & the Mercury Comet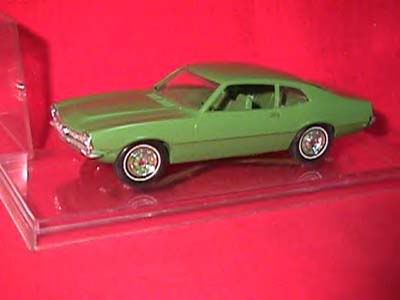 The Maverick came out in 1970 as a Promotional Model.
Jo-Han built them for Ford to give away to their customers, when purchasing a new Maverick. Customers could also mail away for a Promo Model for only $1.00.
The model I have in my collection came from the elderly lady that I bought my real '70 Maverick from. The car was Green so she received a Promo Model that was Green as well. The Comet Promo Model was released in 1971.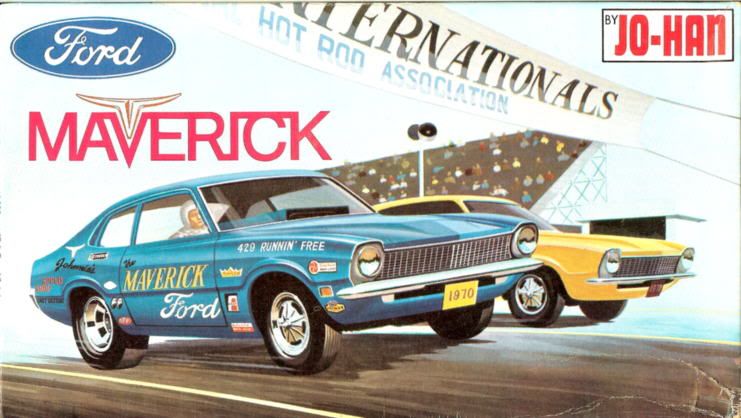 Jo-Han came out with the Maverick kits shortly after the release of the Promo Model. There were three versions of this kit that Jo-Han produced:
The Super Rare 2-n-1 kits with a Stock Engine
& Drag Car parts
The Funny car only version
The Drag car only version
With so many versions, how do you know if someone put a more common version of these kits in an earlier box?
Here are some clues to look for:
3-in-1 Kit
Molded in White Plastic only and included the Grille from the Promo Model (no sport lamps)
Stock Engine & Funny Car parts
Made in 1971 only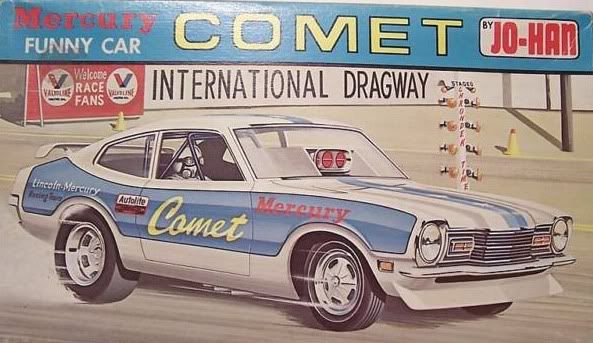 Funny Car Kit
Promo Model's Body and Grille
Hole removed from the windshield for a blower
Glass will say Comet - regardless of whether the kit
was Maverick or not
Includes a Wing and Spoiler
Released in 1973 along with the AMC Hornet Funny Car kit.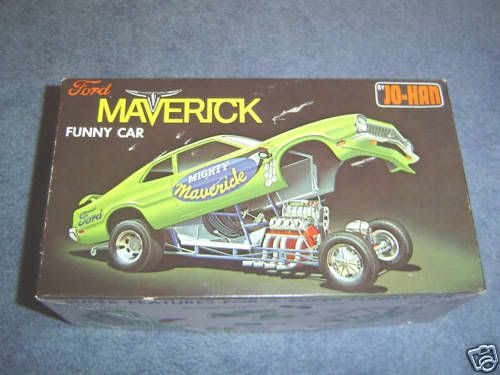 Now for the more common drag kits. Here is where things get a little
tricky.
Drag Car Kit (Maverick ONLY/First Version)
Released in 1971
Included a Hood with Small Scoop & the Promo Car
Grille
Molded in White Plastic and marketed as the 'Dyno
Don' kit (box - orange & black car)
Drag Car Kit (Maverick ONLY/Second Version)
Released in 1972
New Box Art and Decals
Grabber 'Dyno Don' kit - Grabber Grille (w/ sport lamps)
AMT Version - "Right On" Pro Stocker kit (made by
Jo-Han)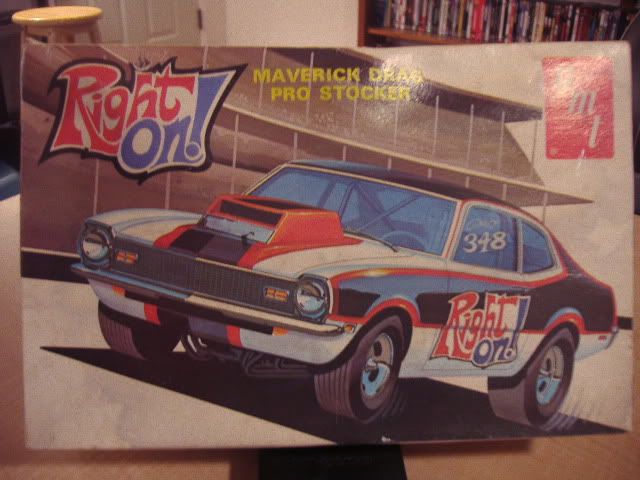 Drag Car Kit (Comet ONLY kits)
"Fast Eddie" Schartman kit - molded in Bright Yellow
(1st version)
"Mr. Gasket" kit - new Box Art and Different Decals
with no Driver Indication (2nd version)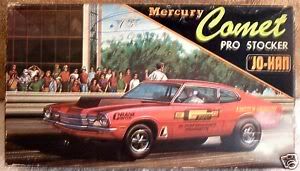 I see these kits on eBay all the time. A lot of times the person running the auction has put the later issue kit in the early issue box. Be careful when purchasing these early issues. What to look for, so as you don't pay for a later issue in an early box are:
The glass does not have a kit number on it and it says 1969 1/2 on the top.
The later versions say "MAV" or C3100 (GC3100 is the
kit number from the late seventies & eighties for
the Maverick)
The wheel backs are another big clue, early kits have
METAL axles and late kits have plastic axles -
wheel backs have different holes
The tires on originals are one piece not two pieces like
the newer versions
Flashing on an "original" kit is a red flag as well. The
tooling was new then, so very, very little flashing
was present.
Anyone who bought Jo-Han kits in the eighties knows what I mean. Take a look at the photo of this "original" Dyno Don Maverick taken from eBay.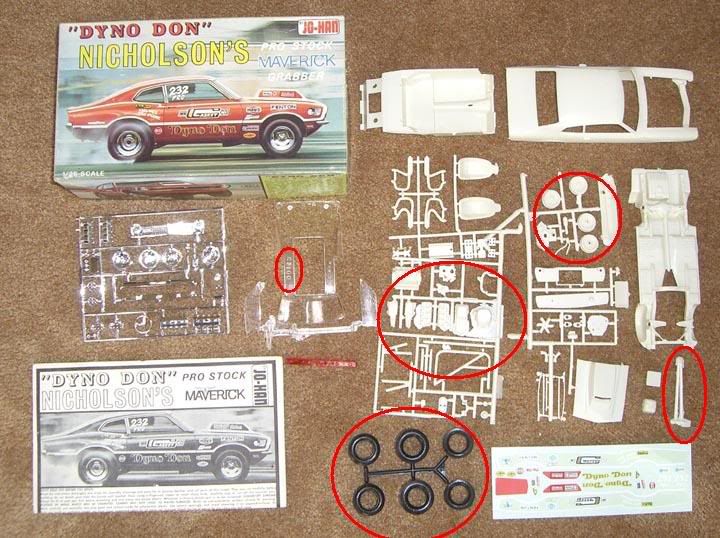 There are many Red Flags here on this piece. I'm not saying this guy is trying to defraud anyone, he may not know. Someone else may have put this kit in the Dyno Don box. This is why you have to be informed when it comes to expensive kits.
Jo-Han produced the Maverick/Comet kits thru the eighties and early nineties until their demise in '99. This era of kits could be molded in any color, from blue, green, bright turquoise, red, orange and many more. The Seville era Comet kits have different box art and decals then any other issue. The tires in these kits are a very hard 'plastic like' rubber. The Maverick remained unchanged during this period as the "Tinker's Toy". The Comet was also used by Testors in their kit line for one year. These are an exact reissue of the Jo-Han kits (except for cheesy dragon decals). These are molded in white only.
Well I hope you have enjoyed this and it has informed you about these wonderful kits from Jo-Han Models.
Happy Modeling,
Louie