Post by Mastercaster on Dec 18, 2014 14:43:11 GMT -8
Here is another cool non model project I have been working on. I have been a plumber for about 36 years now. One of our nicknames is a turdherder. Everyone I talked to thought it was a great idea. I first bought a childs halloween costume sheepherder staff from Ebay for only a couple of bucks. A smaller diameter cheap plastic piece. I got a guy at Tech Shop to scan it and create a file to 3D print it into a larger diameter piece with a stub that would fit into a 3/4 inch piece of copper pipe. I then had a guy laser cut the words OFFICIAL TURDHERDER into the handle on both sides.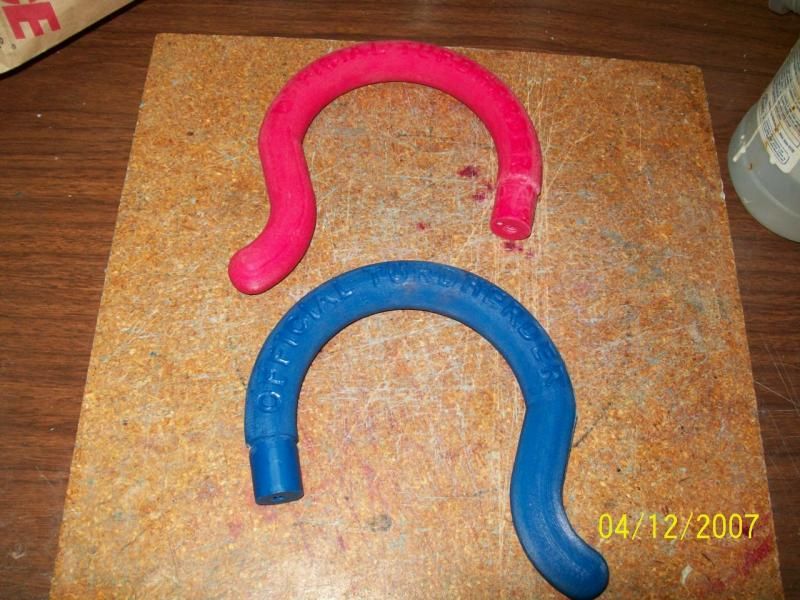 Here are a couple I have made using liquid dyes I bought from SMOOTH - ON to color them. Now if I could only do Camouflage so turds won't see it coming.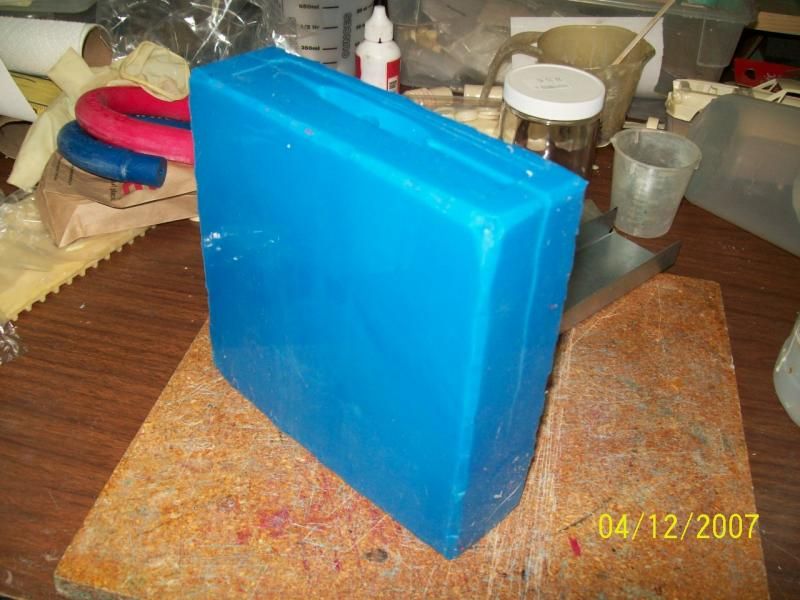 Here is a one piece mold that makes the handle. Believe me, getting the handle out of the mold is a real pain in the butt!
Lets spread her open and have a look inside, Shall we? That bright dot in the bottom is actually a 1/4-20 threaded stud that will form a thread in the handle. Pretty cool, HUH??
In order for the mold to retain the 140 ML of resin so that it would not leak out. I bent these pieces of sheet metal to clamp the sides of the mold tight. This worked out very well.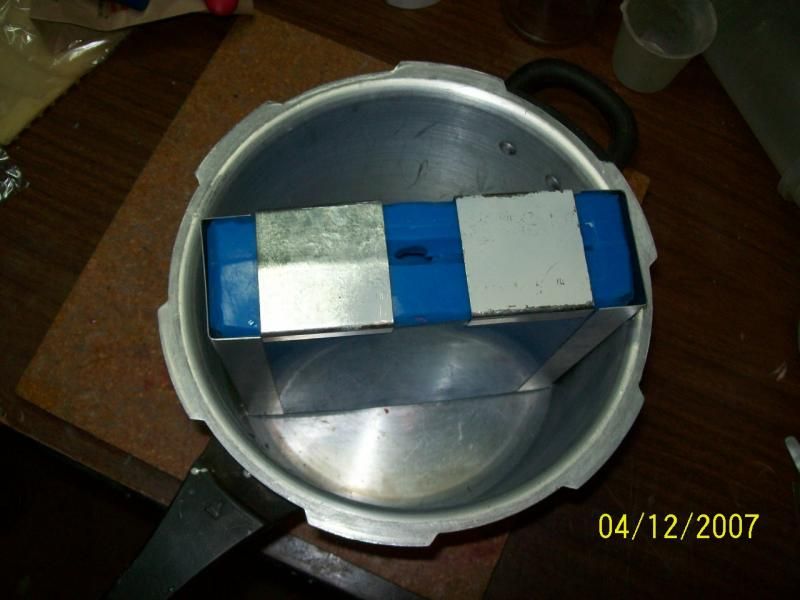 I was delighted to discover that the mold fit upright in one of my pressure pots so that I can actually pressure cast it.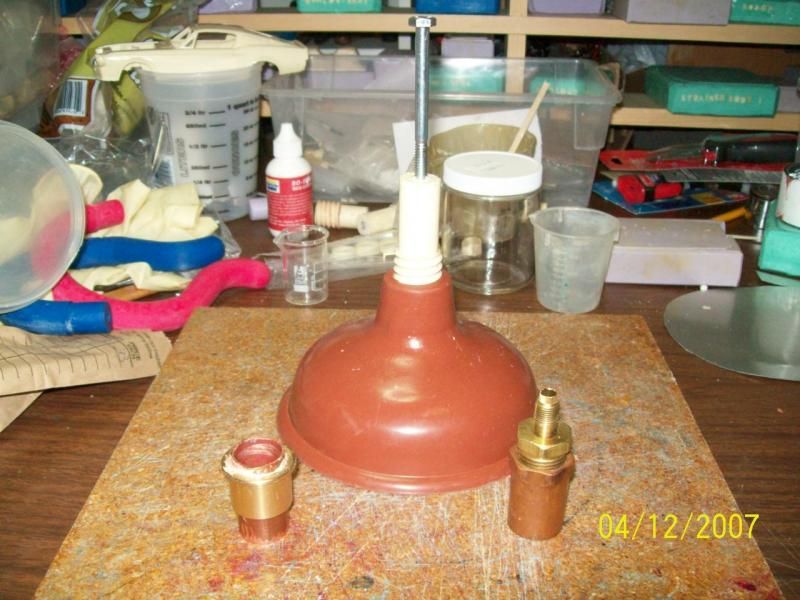 Here is some detail of the end that is threaded to screw into the plunger cup. The part on the left is set on top of the plunger cup, it is pictured upside down. The part on the right gets set on top of it after the resin is poured in. The screw is then dropped in the center to form the threads in the resin part. Mold forming tools need to be lubricated with a good heavy silicone grease or the spray on mold release. I use DOW CORNING 111 silicone grease. You will be crying in your resin if you don't grease it and you will need some tissues for those issues. If these parts are not greased or lubricated, you may not be able to get the part out of the form or have one heck of a time getting it out. Resin can top 140 degrees when curing. Careful not to burn yourself.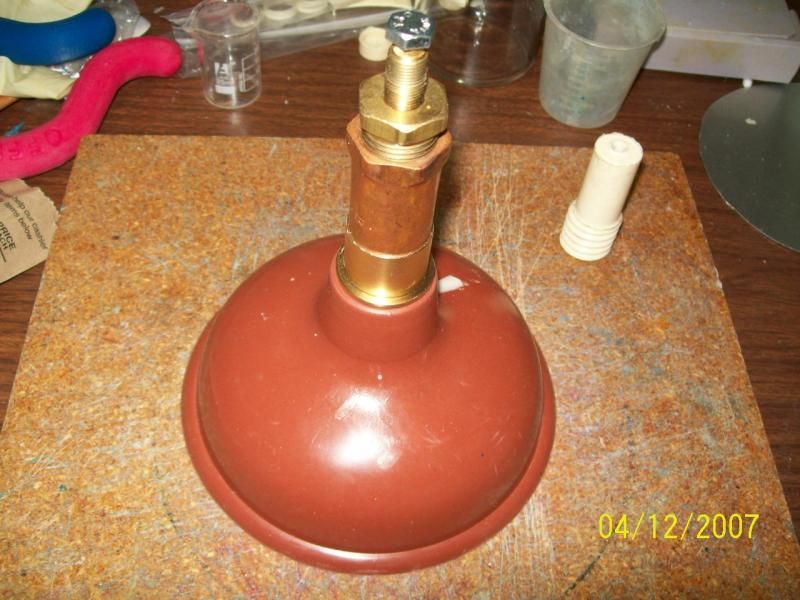 This is the way the form parts fit together.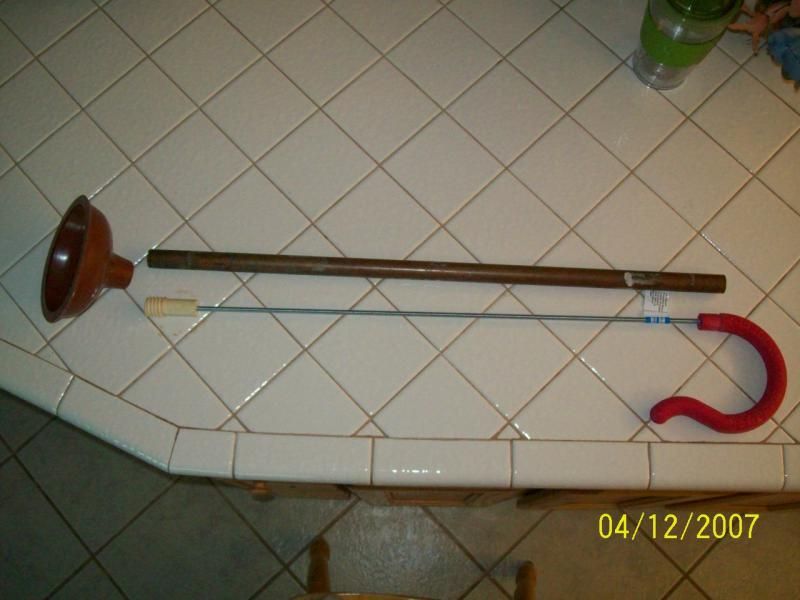 With a length of copper tubing and 1/4 - 20 allthread rod you can slop some good silicone sealant ( GE SILICONE II clear) on the stubs and screw together a toilet plunger that will become a good quality novelty in your bathroom. It will be a topic at any party and a great gift for the beloved plumber in your life or an office award! LOL "Bradley! Here's a special award for making that project you pushed through so smoothly"